ROKR Colorful DIY Music Box 3D Wooden Puzzle
ROKR Limited Edition Colorful Robot Wooden DIY 3D Puzzle Game Steampunk Music Box.
ASSEMBLED SIZE : 150*92*185mm
PACKAGE SIZE : 195*74*273mm
MATERIAL : Plywood
MUSIC PLAY : Can't take my eyes off you
*wax, glue or battery may be not included due to customs policy. You can use any glue or candles to replace them.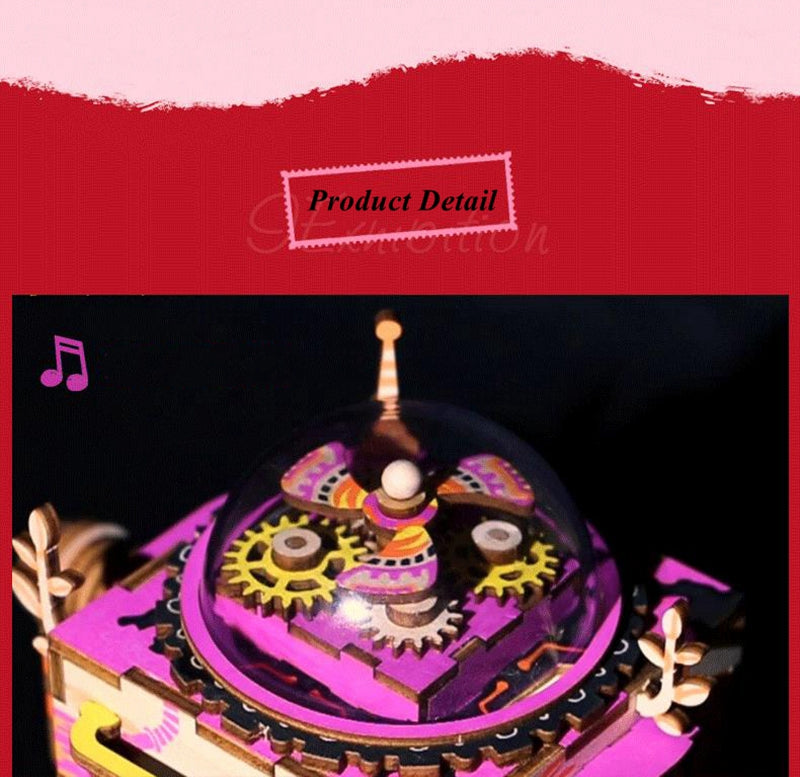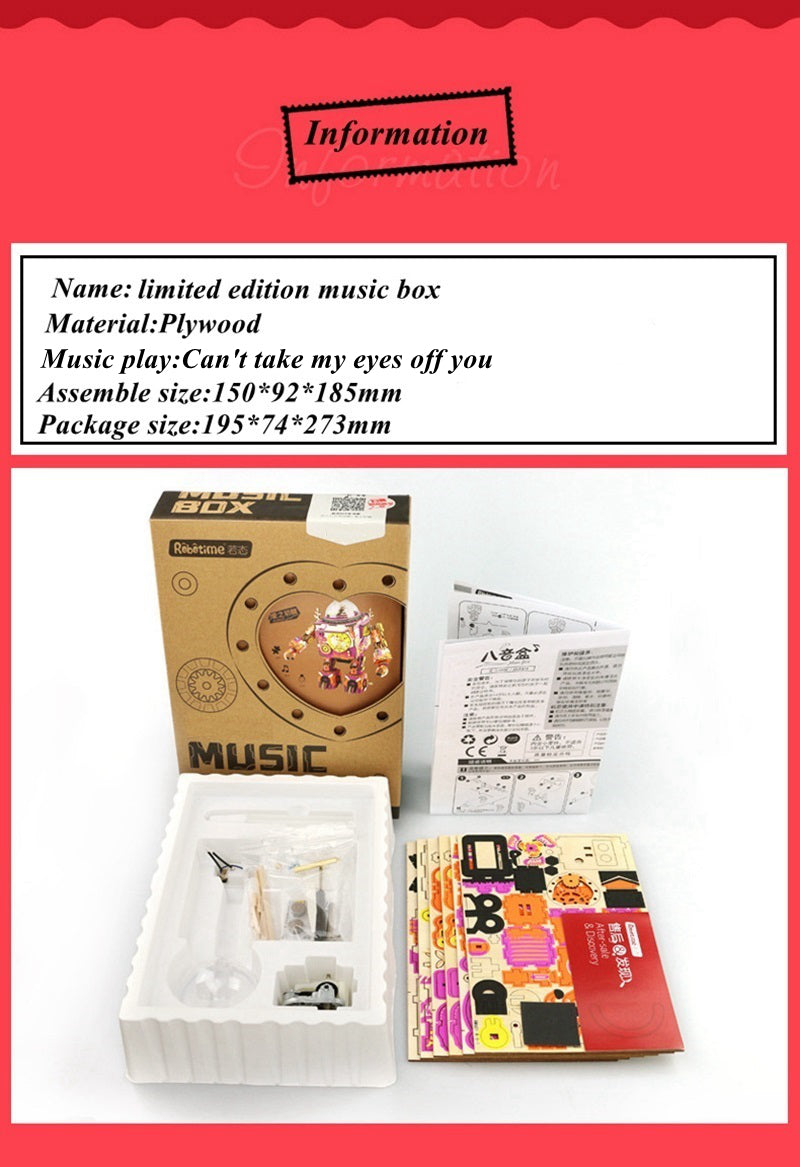 Please consider twice before you place the order. If you want to cancel order please do within 24 business hours BEFORE it is sent out. After it's shipped, we cannot accept the requirement of refund, especially when lacking shipping resources.
Standard Shipping
Enjoy free shipping on orders $65+
7-14 working days for most countries and districts (24-36 business hours to

 

process the order

 

and additional 7-14 days

 

for shipping). For remote districts it may take longer time.
During peak seasons (like Mother's Day & Christmas) shipping can take an additional 3-4 working days.

Affected by Covid-19, there will be some delay on the delivery.
Available countries now:
United States, United Kingdom, Canada, Norway, Macao SAR, Saudi Arabia, Singapore, South Korea, China, Hong Kong SAR, Japan, Taiwan, Thailand, United Arab Emirates, Austria, Belgium, Bulgaria, Czechia, Finland, France, Germany, Ireland, Italy, Netherlands, Poland, Portugal, Spain, Sweden, Switzerland, Turkey, Ukraine, Egypt, Australia, New Zealand, Estonia, Peru, Denmark, Greece, Hungary, Latvia, Luxembourg, Malta, Mexico, Argentina, Bolivia, Brazil, Chile, Ecuador, Guyana, Paraguay, Uruguay, Romania, Jordan, Israel, Philippines, India, Indonesia, Lebanon, Malaysia, Pakistan, Qatar, Russia, Tajikistan, Uzbekistan, Yemen, Åland Islands, Albania, Andorra, Armenia, Belarus, Bosnia & Herzegovina, Bouvet Island, Croatia, Cyprus, Faroe Islands, Georgia, Gibraltar, Greenland, Guadeloupe, Guernsey, Iceland, Jersey, Kosovo, Liechtenstein, Lithuania, Mayotte, Moldova, Monaco, Montenegro, North Macedonia, Réunion, San Marino, Slovakia, Slovenia, Svalbard & Jan Mayen, Vatican City, Algeria, Liberia, Somalia, Sudan, Costa Rica, Guatemala, Haiti, Honduras, Panama, U.S. Outlying Islands, Caribbean Netherlands, Colombia, Falkland Islands, French Guiana, Suriname, Venezuela, Cook Islands, Fiji, French Polynesia, Kiribati, Nauru, New Caledonia, Samoa, Kuwait