ROKR Treasure Box 3D Wooden Puzzle LK502
ROKR Delicate Wooden Treasure Box that you can assemble by yourself. Ideal storage container for rings or other small jewelries.
WEIGHT:0.8 kg
KIT : Accessories, Metal, Plastic, Wood
RECOMMENDED AGE : 14+
ASSEMBLED SIZE : 100*124*85mm
PACKAGE SIZE : 320*235*39mm
WOOD PIECES : 123 pcs
*wax, glue or battery may be not included due to customs policy. You can use any glue or candles to replace them.
【Challenging But Fun】The whole set is extremely well designed, with very tight tolerances and good machining. The interlocking mechanisms are pretty ingenious. Assembling without glue and chemicals. Details are already cut and ready to assemble. The wood is beautiful and smooth.
【Delicate Storage Container】Add more elegant touch with the beautifully carved Treasure Box LK502. Not only assembly but also the unlocking process brings a lot of fun. After inputting the code, you use a key to open it. Then you can keep your private items or jewelry in it safe and sound.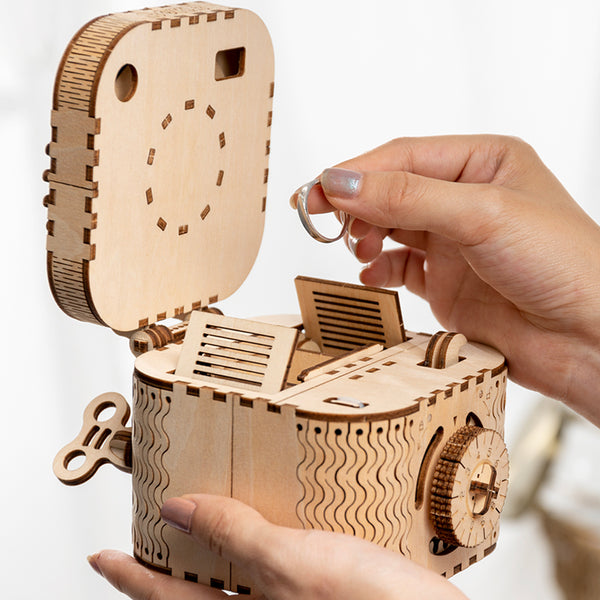 【Creative Gift】What a fascinating thing to see the mechanical miracle coming to life by your own hands. Creative gift for your boyfriend, girlfriend, husband, wife who is a model builder or puzzle lover. It looks so cool and creates a decent challenge for an adult.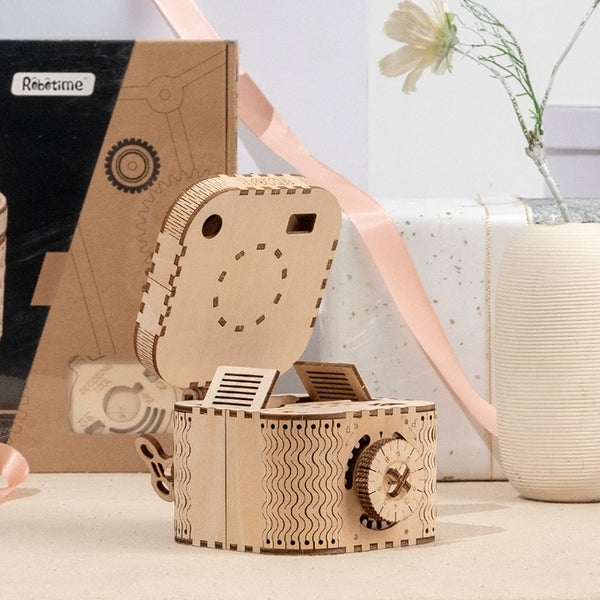 【Non-Glue& Natural】Exquisite external packing, High-quality materials. With Laser Cutting Technology, the pieces are easy to remove from the sheet of plywood, the laser cutting is precise and clean.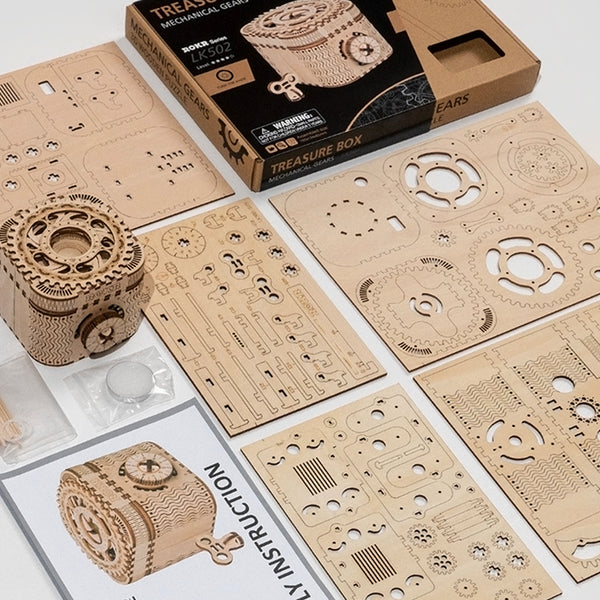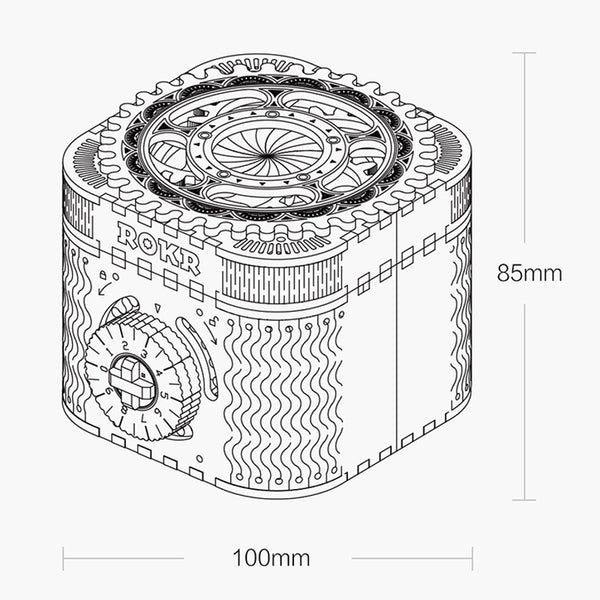 Please consider twice before you place the order. If you want to cancel order please do within 24 business hours BEFORE it is sent out. After it's shipped, we cannot accept the requirement of refund, especially when lacking shipping resources.
Standard Shipping
Enjoy free shipping on orders $65+
7-14 working days for most countries and districts (24-36 business hours to

 

process the order

 

and additional 7-14 days

 

for shipping). For remote districts it may take longer time.
During peak seasons (like Mother's Day & Christmas) shipping can take an additional 3-4 working days.

Affected by Covid-19, there will be some delay on the delivery.
Available countries now:
United States, United Kingdom, Canada, Norway, Macao SAR, Saudi Arabia, Singapore, South Korea, China, Hong Kong SAR, Japan, Taiwan, Thailand, United Arab Emirates, Austria, Belgium, Bulgaria, Czechia, Finland, France, Germany, Ireland, Italy, Netherlands, Poland, Portugal, Spain, Sweden, Switzerland, Turkey, Ukraine, Egypt, Australia, New Zealand, Estonia, Peru, Denmark, Greece, Hungary, Latvia, Luxembourg, Malta, Mexico, Argentina, Bolivia, Brazil, Chile, Ecuador, Guyana, Paraguay, Uruguay, Romania, Jordan, Israel, Philippines, India, Indonesia, Lebanon, Malaysia, Pakistan, Qatar, Russia, Tajikistan, Uzbekistan, Yemen, Åland Islands, Albania, Andorra, Armenia, Belarus, Bosnia & Herzegovina, Bouvet Island, Croatia, Cyprus, Faroe Islands, Georgia, Gibraltar, Greenland, Guadeloupe, Guernsey, Iceland, Jersey, Kosovo, Liechtenstein, Lithuania, Mayotte, Moldova, Monaco, Montenegro, North Macedonia, Réunion, San Marino, Slovakia, Slovenia, Svalbard & Jan Mayen, Vatican City, Algeria, Liberia, Somalia, Sudan, Costa Rica, Guatemala, Haiti, Honduras, Panama, U.S. Outlying Islands, Caribbean Netherlands, Colombia, Falkland Islands, French Guiana, Suriname, Venezuela, Cook Islands, Fiji, French Polynesia, Kiribati, Nauru, New Caledonia, Samoa, Kuwait