Attention! Rokr AK-47 Wooden Gun Applies to Join the Forces
May 31, 2023 by ROKR
Have you ever wanted to experience the thrill of assembling a legendary firearm without the dangers associated with the real thing?
Then look no further than the ROKR AK-47 Assault Rifle Gun Toy 3D Wooden Puzzle. This innovative and entertaining wooden puzzle is designed to captivate boys, teenagers, and young adults alike, offering a unique, safe, and educational experience.
In this article, we'll explore the fascinating features and benefits of this exceptional toy gun and explain why it's a must-have for any puzzle enthusiast or wooden gun model collector.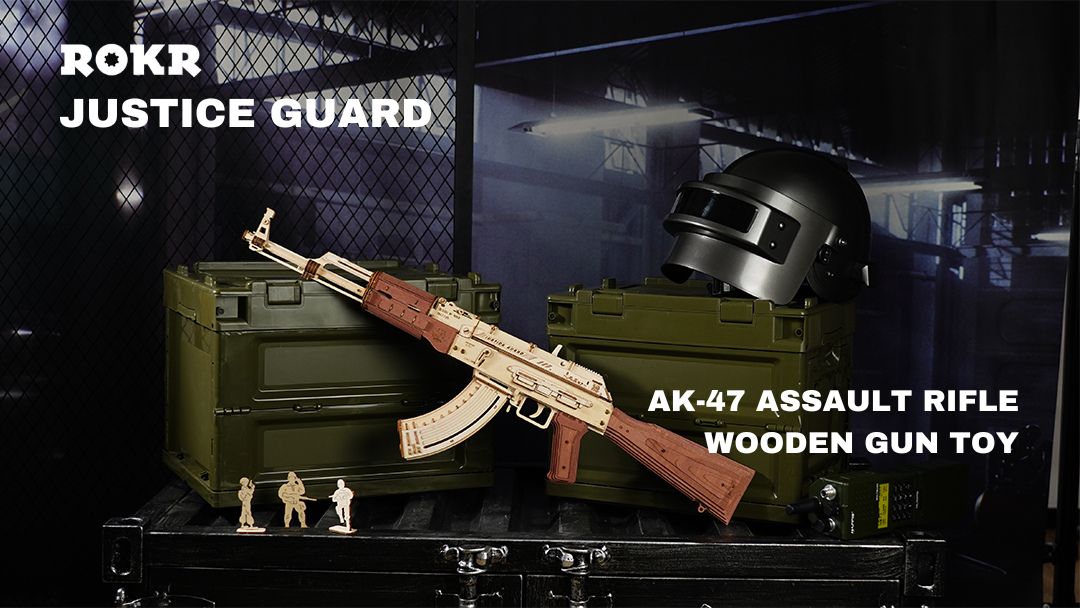 A Realistic Wooden Replica of an Iconic Firearm
The ROKR AK-47 Assault Rifle Wooden Gun Toy is an 0.8:1 scale replica of the renowned AK-47 assault rifle. Its meticulous design, with careful attention to every detail, creates an authentic and realistic representation of the iconic weapon. Crafted from high-quality wood, the puzzle features intricate design elements such as the trigger, magazine, and barrel, making it an impressive display piece once assembled.
Functionality Meets Entertainment
This model-building kit offers more than just an engaging assembly process - it's also a functional wooden gun toy. After completing the assembly, the rubber band-powered gun can be loaded and fired safely, providing hours of interactive fun.
S/B shoot-switching mechanism
The Rokr AK-47 Assault Rifle wooden gun has been designed with two shooting options: fixed fire and burst fire. Simply pull the real fire selector mechanism to switch between single and burst shooting modes.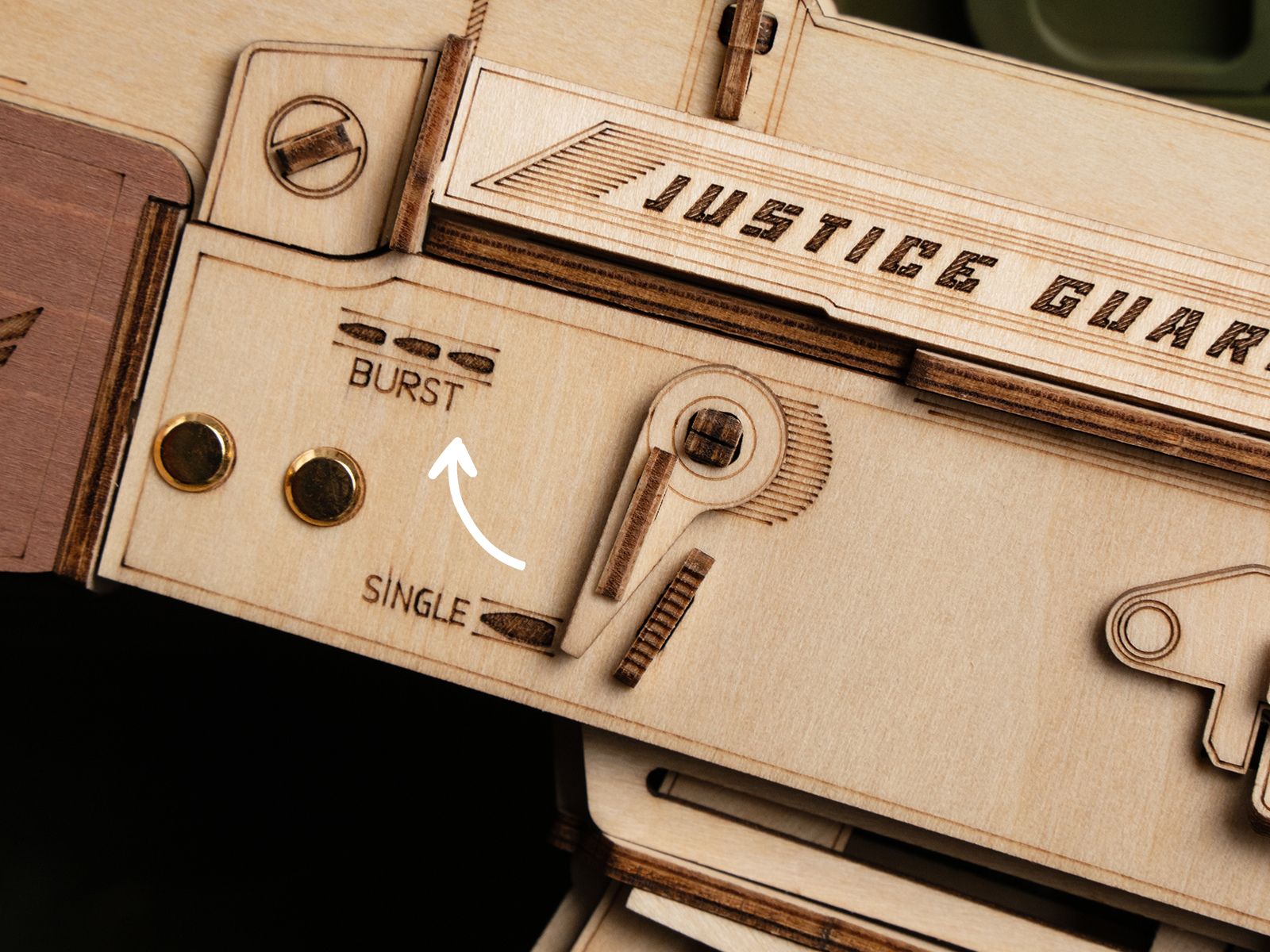 Removable clip
In order to maximize the restoration of details, designers have not only made efforts in terms of colors, shapes, proportions, etc., but also restored the true use of the clip. You can easily remove the clip by pull the buckle. (Don't worry, the clip is also a wooden model, and it cannot be loaded with bullets)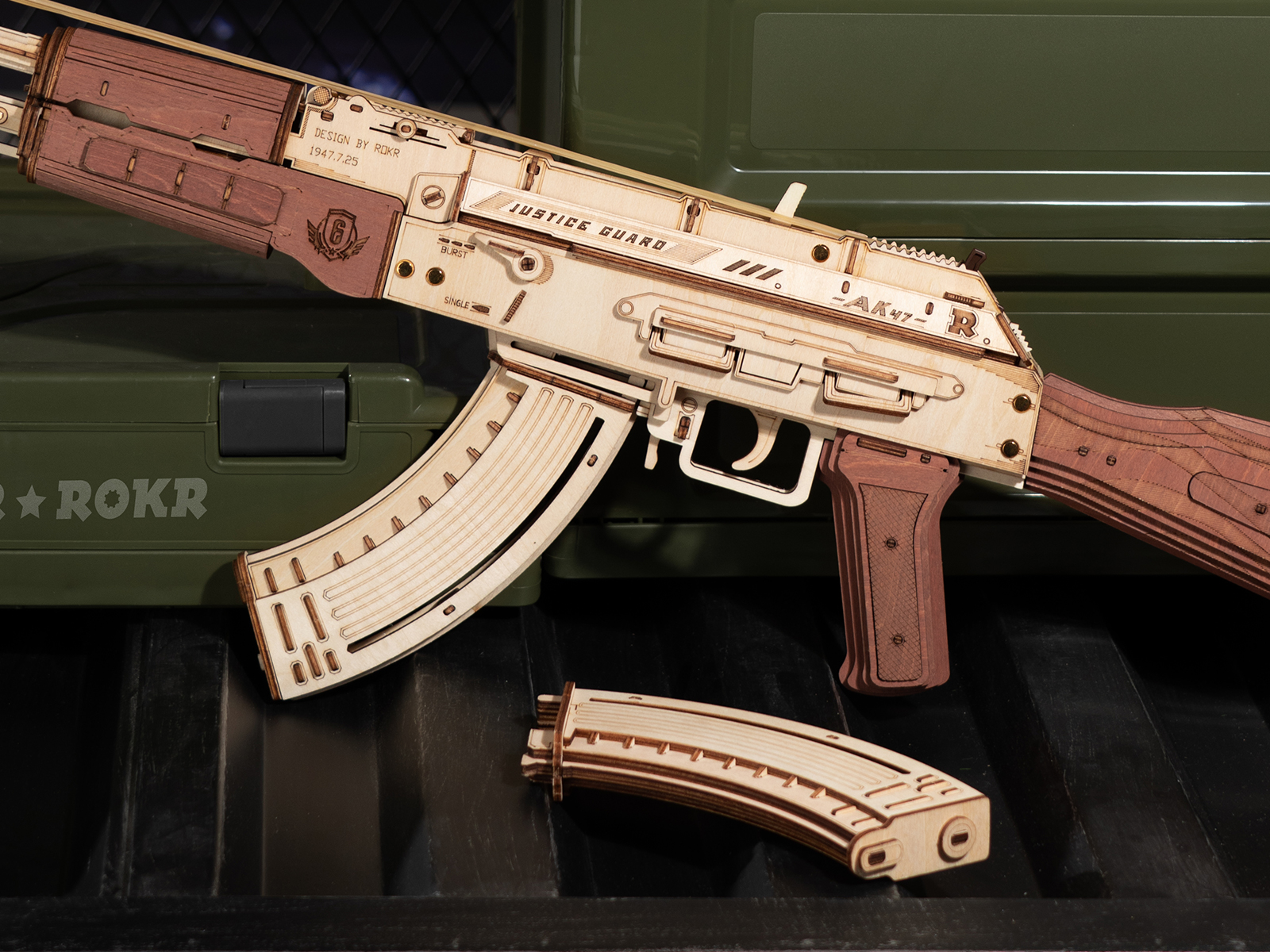 Safety lock
The safety lock provides good protection. If you want to enter shoot mode, you need to first pull the safety lock up and pull the bolt of the wooden gun.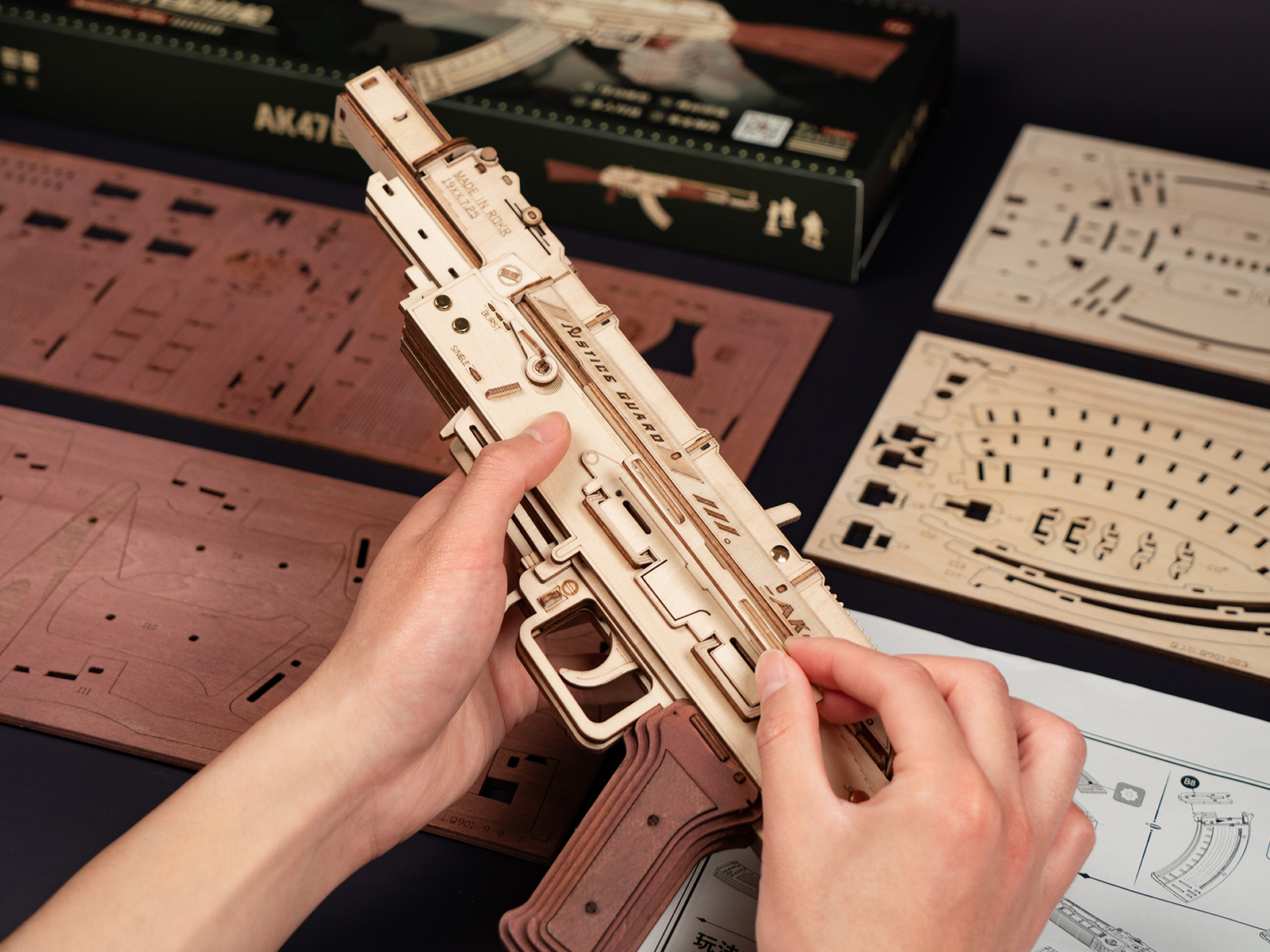 Be friendly to children
ROKR AK-47 Assault Rifle wooden gun will not disappoint you. We choose safe rubber bands as bullets and non-toxic plywood pieces, which poses no threat to children.
How to play Rokr AK-47 wooden gun
Once you've put it together, you can proceed by:
Hookthe rubber band onto the cross wheel tostore your "bullets". It can load at most 12pcs.
Check whether the trigger is locked. If it's locked,you need to first unlock the safety mechanismand pull the bolt to enter the firing mode;
Then, all that's left is to take aim at the wooden minifigure supplied by ROKR and begin shooting!
This video will bring you to know more about it.
Easy Assembly for Kids & Adults
Assembling this AK-47 Assault Rifle model puzzle is a breeze, thanks to the clear and easy-to-follow instructions included in the kit. No special tools or glue are required, making it accessible to puzzle enthusiasts of all skill levels. The assembly process helps to develop cognitive skills such as problem-solving, spatial awareness, and hand-eye coordination, making it an educational and enjoyable experience for all.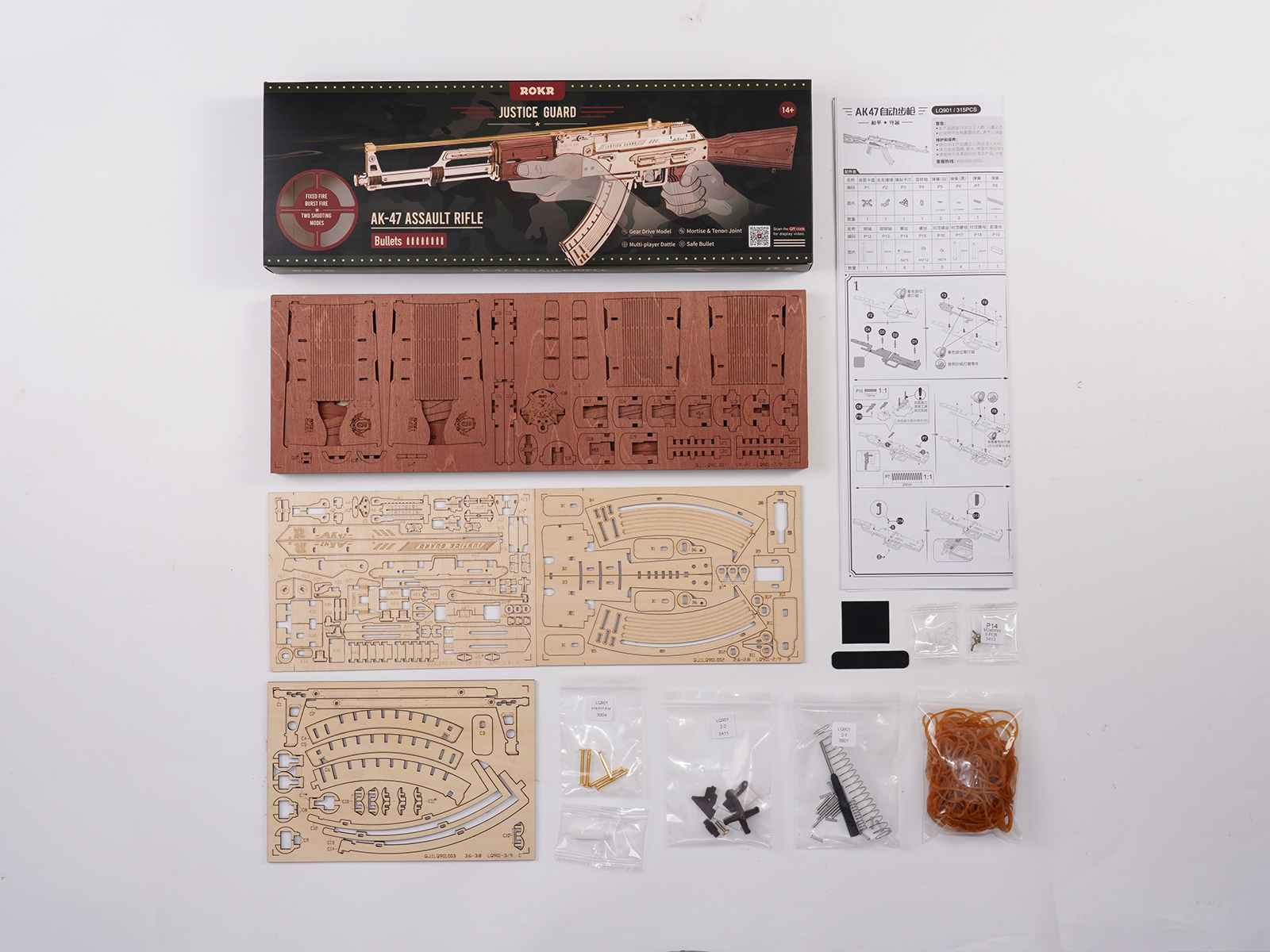 The Benefits of Wooden Puzzles
Wooden puzzles like the ROKR AK-47 Assault Rifle Gun Toy offer several advantages, including:
Improved cognitive skills: Assembling a 3D wooden puzzle challenges problem-solving skills, spatial awareness, and hand-eye coordination, promoting cognitive development.
Stress reduction: Engaging in the assembly process can help reduce stress and promote relaxation while providing a sense of accomplishment upon completion.
Enhanced creativity: Working on a 3D puzzle encourages creative thinking and innovative problem-solving, inspiring new ideas.
Fostered patience and persistence: The assembly process requires patience and persistence, qualities that can be beneficial in various aspects of life.
Conclusion
The ROKR AK-47 Assault Rifle 3D Wooden Puzzle is an entertaining, functional, and educational toy that appeals to puzzle enthusiasts, gun model collectors, and anyone looking for a unique and enjoyable experience. With its realistic design, engaging functionality, and high-quality materials, this wooden puzzle is the perfect addition to any collection or playtime. Don't miss the opportunity to experience the thrill of assembling and firing your very own AK-47. Click here to learn more about this puzzle!